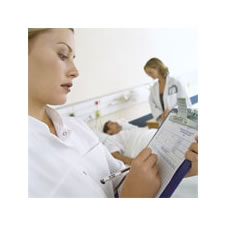 Medical Assistant Program at Stillwater College of Allied Health offers training to become Medical Assistant in 9 months. Classes are offered in the morning and evening to fit any busy schedules you might have. As a graduate medical assistant you will know how to do the following:
Class Schedule
Evening schedule
Morning schedule
Administrative skills:
scheduling and managing appointments and inpatient admissions, checking patients in and processing the documents, performing daily office operations such as billing and coding, as well as dealing with insurance companies, performing inventory of supplies and equipment, prepare purchase orders, and many more.
Clinical skills:
Preparing patients for routine and speciality examinations, maintaining medication records, practicing infection control, administering intramuscular and subcutaneous injections, collecting specimens of urine and blood, performing telephone health screening, performing first Aid and CPR, measuring visual acuity, educating patients, measuring vital signs and more.
Graduates of the Medical Assistant Program at Stillwater will be able to sit for the Certified Medical Assisstant Examination (CMA) offered by the American Association of Medical Assistants (AAMA).
Employment
The following information has been extracted from United States Department of Labor, Bureau of Labor Statistics and can be found here http://www.bls.gov Employment is projected to grow much faster than average, ranking medical assistants among the fastest growing occupations over the 2008–18 decade.
| | | | |
| --- | --- | --- | --- |
| Occupational title | Employment, 2008 | Projected Employment, 2018 | Change 2008-2018 |
| Medical Assistant | 483,600 | 647,500 | 163,900 (34%) |
Employment is projected to grow much faster than average, ranking medical assistants among the fastest growing occupations over the 2008–18 decade. Job opportunities should be excellent, particularly for those with formal training or experience, and certification.
Employment change. Employment of medical assistants is expected to grow 34 percent from 2008 to 2018, much faster than the average for all occupations. As the healthcare industry expands because of technological advances in medicine and the growth and aging of the population, there will be an increased need for all healthcare workers. The increasing prevalence of certain conditions, such as obesity and diabetes, also will increase demand for healthcare services and medical assistants. Increasing use of medical assistants to allow doctors to care for more patients will further stimulate job growth.
Helping to drive job growth is the increasing number of group practices, clinics, and other healthcare facilities that need a high proportion of support personnel, particularly medical assistants who can handle both administrative and clinical duties. In addition, medical assistants work mostly in primary care, a consistently growing sector of the healthcare industry.
Job prospects. Jobseekers who want to work as a medical assistant should find excellent job prospects. Medical assistants are projected to account for a very large number of new jobs, and many other opportunities will come from the need to replace workers leaving the occupation. Medical assistants with formal training or experience—particularly those with certification—should have the best job opportunities, since employers generally prefer to hire these workers.
Earnings
The earnings of medical assistants vary, depending on their experience, skill level, and location. Median annual wages of wage-and-salary medical assistants were $28,300 in May 2008. The middle 50 percent earned between $23,700 and $33,050. The lowest 10 percent earned less than $20,600, and the highest 10 percent earned more than $39,570. Median annual wages in the industries employing the largest numbers of medical assistants in May 2008 were:
| | |
| --- | --- |
| General medical and surgical hospitals | $29,720 |
| Colleges, universities, and professional schools | $28,820 |
| Offices of physicians | $28,710 |
| Outpatient care centers | $28,570 |
| Offices of other health practitioners | $25,240 |
For more information call Stillwater College of Allied Health: (303) 753-7577